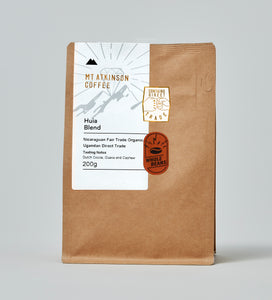 Smells so good, and tastes good too. can not wait for the next one
Addicted
Went from being a "one cup per day" person to multiple cups per day - I blame and thank you equally :)
Huia Subscription -Whole beans
Great coffee, smooth flavour. Great for your morning coffee plus one in the car on the way to work.
Fast delivery and love the packaging.
Drug of choice
Enjoying my daily fix which is timely delivered to my door each month…very grateful 💗
Our favourite delivery!
We just love Mt Atkinson coffee...especially on subscription. It's our favourite delivery!!!